Modelling Training Courses
Why Training?
Financial modelling skills are most effectively shared on training courses because of the benefit of the real time, hands on experience of an expert.
Excel is an assumed skill by the majority of employers and often very little, if any, formal training is provided for the established user. Few fields of professional development receive so little attention. Employees are not expected to be advanced negotiators or presenters without specialised training. Yet Excel users are usually self taught and develop themselves in isolation as they go along.
Furthermore many businesses hire in management consultants at great expense to temporarily bring in the skills they need and are left with a solution that is fast out of date and with no internal ability to understand, develop and manipulate the outputs for ongoing use.
Any business can obtain a real and tangible strategic advantage over its competitors by the speedy and accurate modelling of financial data.
Our Courses
Our courses incorporate scenario spreadsheets that are constructed by the candidates themselves, immediately putting into use what they have learnt. These fully functional best practice models can then be taken back to the office as an aide memoire.
We also include illustrative examples, tips and tricks to share lessons learnt the hard way by countless modellers before you.
Most importantly, our courses teach practical modelling skills and not simple lists of Excel functions.
All training can be tailored specifically for your business to fit with existing needs or practices and fully complement our financial modelling consultancy services. We can provide training at your offices or remotely, either as a group or one-to-one.
Our experts are friendly, approachable, provide personal attention in small class sizes and all our training courses will suit advisors, bankers and corporate employees alike.
One-To-One Training
Many directors and senior managers want courses that are tailored to their specific needs and feel a classroom approach is too basic, general, public or inconvenient.
One-to-one training enables you to get the maximum benefit for your time, when you want, where you want, and with an agenda set entirely with your personal needs in mind.
Developing Your Team
Implementing financial modelling skills into your business may require more than sending a few key people on a course. Having a company modelling strategy incorporates:
• Shared best practice / standardisation,
• Consistent design, build and review standards,
• Training for both modellers and managers,
• Risk evaluation / management procedures, and
• Cultural change.
Speak to us about your team's goals and how we can support you in achieving them.
The Cost Argument
Training in financial modelling can result in significant business savings. Namely in:
• Modeller productivity,
• Management review time, and
• User comprehension.
For example, an analyst saving just one day per month, or 5% of working time, compares very reasonably with the costs of professional training and the benefit can be recovered very quickly.
Investing in staff is beneficial to employee satisfaction, staff retention and can also count towards Continuing Professional Development (CPD) requirements.
Minimising Risk
Modelling skills are also a key contributor to minimising business risk, by:
• Promoting a structured approach,
• Reducing error rates, hence better decision taking, and
• Aiding management/peer review.
Examples
A model with no structure or clarity: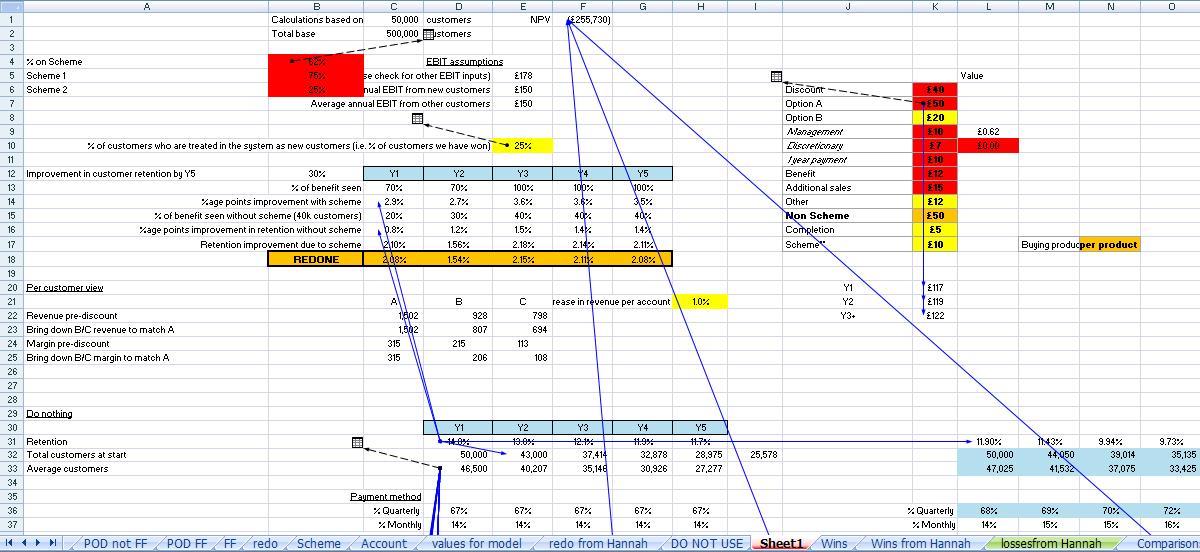 An example utilising elements of best practice and FAST:

A1 Financial Modelling complies with the FAST standard and all other best practice in its financial modelling consultancy and modelling training courses.
To enquire further about any of our services, please contact A1 Financial Modelling.
Return to the front page.